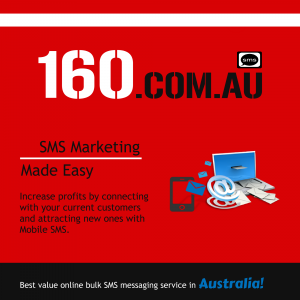 www.160.com.au services have allowed businesses, entrepreneurs and advertisers of all sizes to equally capitalize on this powerful resource.

With the average person looking at their phone 150 times a day, SMS messages are read within five seconds of being received.
This means marketers can be very specific about targeting individuals at the right place and time.

160.com.au can help you get started. All you need is a simple message of 160 characters or less and a database of numbers to send it to.
The fact that it's short makes you focus solely on the main point.
So sign up now for a free trial at www.160.com.au and try our world class SMS service getaway.


Visit: www.160.com.au – The best value online bulk SMS messaging service in Australia!