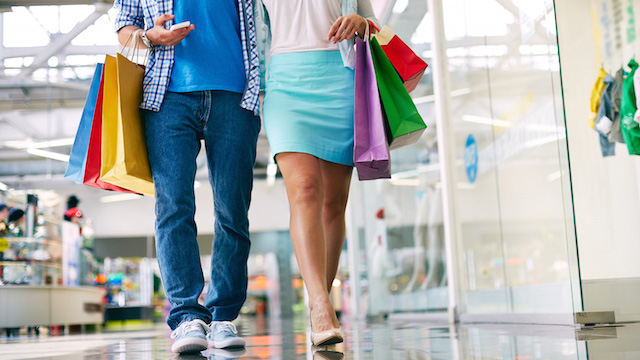 New customers are skeptical.
They research for different solutions online.
From that bunch they reduce their options down to 2 or 3.
They look for reviews and best prices.
They talk with their friends and ask for their opinions etc.
All of this happens before you even hear from them.
But sometimes even after all of this groundwork when it comes time to buy a lot of them will still find it hard to pull the trigger.
Using special offers are a useful way to get these types of customers over the line and into your bulk SMS list.
Below I've listed 20 proven promotional ideas that you can use as inspiration for driving more hungry buyers into your online text messaging list.
Buy One, Get One Free
In order to pull this strategy off you need to have good margins or understand the lifetime value of your customer. This is really a 50% off offer but the allure of "free" will always out-pull 50% off.
You'll see this offer a lot with TV infomercials "buy this heat proof mesh glove and receive another one free!"
This is a good way to move old stock.
Competitions And Giveaways
Competitions can drive a large volume of leads quickly that can create an amazing flood of sales with SMS campaigns, on the flip-side if you don't have the right game plan you'll have a list of time wasters and tire kickers.
The secret to making competitions work is ensuring that you give away your product as opposed to something unrelated.
By basing the competition around your own product you'll attract people who are genuinely interested in solving a problem that your product solves.
Free Delivery
While working in ecommerce we would use all types of offers but the one that seemed to work the best (even though the savings weren't as good as our other offers) was offering free delivery.
Free shipping is always a great option and people will often choose you over a competitor even if you're shipping cost are a few dollars.
SMS Gift Vouchers
The best thing about gift vouchers is that it is a potential double whammy.
You get 'Person A' who opted in for the gift voucher (follow up with them for mother's day, xmas, valentine's day etc.) plus when 'Person B' comes in to redeem that voucher you can capture their mobile number as well to give them special offers.
Standard Discounts
For the most part it's best to use another strategy because discounting almost always leads to a drop in your product or service's value.
This is ok to do once every 6 months for example.
Free Information
Information is a fantastic way to generate leads because it gives you a chance to set up the sale and prepare the prospect so that when they are ready to purchase you can make them an offer.
One great way to increase the perceived value of information is to offer information or even solve a smaller part of the bigger problem.
If you sell resume creation services you might give away an in-depth guide on how to answer the top 10 toughest interview questions for specific industries so that when that person gets an interview they can feel confident but in order to get the interview they need to have the right resume and cover letter which is what you sell.
Free Workshops
Similar to the above but the main difference is that you're asking for a higher commitment.
This means that the quality of prospect is higher which further improves your ability to convert these people into paying customers and clients.
Student or Pensioner Discounts
Demographic-based offers a good way to foster more loyalty within these groups especially the elderly.
Free [X] If You Buy Before [Date]
This is an incentivised deadline-driven offer.
Deadlines are probably one of humankind's greatest inventions because it's so easy for most of us to procrastinate and 'put it off' until tomorrow which is on good for us.
This is especially useful if you're selling products that may not be sexy but may be a necessity like car tires, for example, then it's likely that the buyer will put this off for as long as possible before making that purchase.
Offering a valuable incentive not only if they act within a specific timeframe is a good way to create action.
Free Trials/Try Before You Buy
Ever wonder why food companies plonk those tiny food kiosks inside supermarkets merrily giving away free food?
These companies know that people tend to be creatures of habit which makes it tough to move them to try new things because people really don't like change.
Letting someone try your product for free helps them see for themselves how valuable the product is and once they've tried it you can make another special offer to buy your product.
Free [X] When You Buy [Y]
This is a premium-based offer which works amazingly well if the bonus is valuable.
The secret to making this work is to have the bonus appear more valuable than the primary product.
Remember the toys you used to get with cereals?
Remember when magazine subscriptions came along with free gifts? For example, a dinosaur magazine series would have a piece of a dinosaur with each issue.
This is heavily used in TV infomercials as well.
People will often buy the primary product just to get the free premium!
12. Loyalty Points
Rewarding customers for spending with your business is a well-trodden strategy and is great for business owners who understand the vital importance of repeat business.
Package Deals
Package deals are fantastic because it's designed entirely around building value as opposed to discounting which is about eroding value.
A great way to use packages is to understand the end goal of the customer.
If they want to lose 10 kilos over the next 3 months you could offer them personal training sessions or you could offer them a complete weight loss solution package:
3x personal training sessions per week for 3 months
Nutrition coach to keep you on track
90 day nutritional weight loss plan
Weekly shopping list
Delicious recipes
90 day supply of your best fat burning supplement
Training videos
And pull it all together for a reduced price.
Even though we're reducing the overall price this does not damage the value of these products and services in fact, once they begin to get results they will likely continue to use some of these after the 3 month period which would not have happened had we just offered them personal training sessions.
Make A Guarantee
Perfect for higher priced products and services.
The trick to making guarantees work is to go into the specifics of how the customer can go about getting their money back should they not like the product.
Most businesses will place a guarantee sticker on their site and leave it at that.
But savvy businesses will detail the guarantee for example:
Not happy with our smoothie blenders?
Acme's 90 Day Smoothie Promise
If you don't feel amazing after creating healthy and nutritious smoothies with our blenders if our blenders do not make the smoothest, velvety texture then simply ask for a refund. Send us an email with your order code and Becky (our customer specialist) will personally handle your request for you and let you know when your money will be placed back into your account.
Risk Reversal
This is the money-back guarantee on steroids – extra confidence is needed here.
A risk reversal means that you'll not only give the person their money back but you will also offer something else like pay for shipping or give them $100 for wasting their time etc.
The goal is to take the risk entirely off the buyer and shoulder the risk yourself.
This works well because before a person buys they have a lot objections and anxiety so the risk reversal relieves them of this problem.
Better Payment Terms
Often times what stands in the way of getting the sale or losing a sale can come down to simply providing friendlier payment terms.
If you currently only have a full price option let people pay off your product in installments.
If you currently offer 12 months interest-free, offer 24 or 36 months interest-free.
Make buying your product a low-risk endeavor.
Legacy offer
A customer pays a one-off price (or it could be reduced monthly rates) and they get your product or service for life at that price.
Health clubs typically use this to generate revenue early new members will pay a one-time $400 fee and they get lifetime access for free after that.
Free Consultation
On the surface this is may not seem like a high value offer but to the right people and to the right pain point it definitely can be.
By offering specific information around a highly valuable area of interest this can be all that is required to move a person to opt-in to your SMS list.
Stay away from saying "free consultation" instead go into more detail about what the consultation will cover so that the prospect can fully understand the value being delivered.
Price Match
Not a favourite of mine since it is price-focused but if you're a large company selling commoditised items (you're selling the same brands as your competitors) then this can work well.
Ultimately this is a value-destroyer.
Exclusive Offer
Used to target specific segments of your market for example making a VIP offer for your higher spenders or enticing your middle of the road spenders to become VIP members with a special offer etc.
Now that you're beginning to build up your SMS list, you can generate sales on demand by simply sending out SMS marketing campaigns.