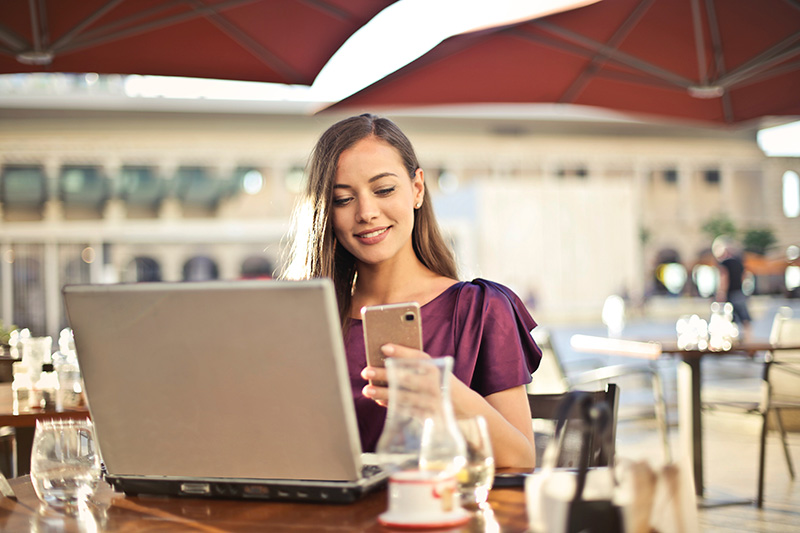 If you've sent a text message to more than one person before then the good news is that you have almost everything you need to set up an SMS marketing campaign.
The only additional skills required are setting up an SMS lead capture process (which is surprisingly simple) and of course, coming up with offers to drive ready-to-buy customers into your SMS list.
In this article, I'll walk you through the 7 steps needed to put together your first SMS list so you can start generating revenue.
Step 1: Create a free account
The best thing about bulk SMS is that you only pay when you send text messages it's completely free to start collecting leads but in order to do that you need to have an account and set everything up correctly.
Click here to create your free account.
Step 2: Send yourself a text message
Inside your account, you'll see that you have free online SMS credits this is so you can get a feel for how it all works.
It is highly recommended that you send yourself an SMS and also someone else.
Step 3: Create segmented lists
One of the keys to successful SMS marketing is sending relevant promotions and information.
The way you do this is by creating separate contact groups.
There are plenty of ways to split up your SMS contact groups, for example:
Product based (retail store)
Computers
TV's
Lounges
Kitchen
Interest based (diet supplement company)
Building muscle
Losing weight
Improving sports performance
Step 4: Create keywords & shortcodes
Once the groups have been created you'll need to assign a unique keyword to that group.
This is important because that keyword tells the online SMS system where to place that lead or subscriber.
Keyword tips:
Make the keyword as short as possible, if you have a storewide 50% off special then it could be "STORE50" for example.
Shortcodes are a special short digit code or phone number that the person text's the keyword back to, for example:
Text STORE50 to 12345 and get a special 50% coupon code to use for any online purchase!
"12345" is the shortcode in this example.
Once you've organised your keyword it's time to create an irresistible offer.
Step 5: Create an irresistible offer for each group
There will be times where you'll be running a special promotional offer which you can use to build your list the only problem is that if your promotion only runs for 48 hours then you only have 48 hours to build a list.
The best type of offers are more evergreen in nature this allows you to generate new leads and subscribers all year round while in addition to these you can use the limited time offer to give your contact groups an added boost in subscribers.
The most common promotion offers are:
Buy One, Get One Free
Free Delivery
Gift Vouchers
Standard Discounts (10% off etc.)
Free Workshops
Demographic-Based Discounts (student, elderly etc.)
Free 'X' If You Buy Before 'Y'
Free Trials/Try Before You Buy
Free 'X' When You Buy 'Y'
Package Deals
Better Payment Terms
Free reports and guides
Tips for creating great offers:
Make different offers for each contact group. Relevancy is incredibly important in the SMS world. The moment you send an offer that doesn't solve a problem or help them move toward a desirable goal is the moment you start to become SPAM.
Make the offer irresistible. Think about the problem that they're trying to solve or the goal they are trying to accomplish and then think how you could price it or package it up so that it would be almost impossible to not take up. Do keep in mind that you want to be able to sell to them in the future so you don't want to give them everything and have nothing to promote later.
Look at what your competitors are offering on their websites and marketing materials. If they've been using an offer for a long time it would be worth modelling and innovating on.
Look at what unrelated industries are offering. Again, if they have longstanding offers then it's worth seeing if you can borrow that same model and use it for yourself.
Test your evergreen offers. If you're not sure which offer will work best then let the market tell you. Put together 3 offer options and promote each one for 30-60 days. This should give you enough data to make a decision.
Step 6: Promote your offer
Once you have your irresistible offer it's time to get as many eyeballs on it as possible.
Email
Website
POS
OPL (other people's customers)
Sandwich boards
Flyers and newspapers
In-store material
Signage
Social media
Online ads
Step 7: Send powerful follow up campaigns
The best part about building an SMS list of qualified leads and customers is that you can continue to generate sales on demand just by sending out a simple SMS campaign and because the open and response are so high with SMS you could expect to generate 2-3 times the volume of sales as your email campaigns.