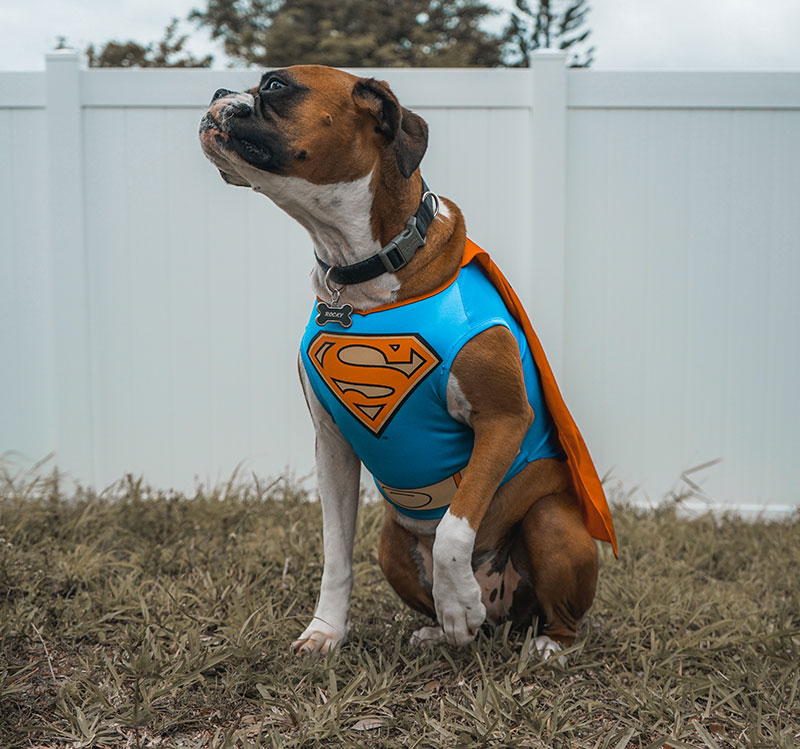 10 Super Power Features You Need In 2019
While there are some customers who send the odd single text here or there, the majority of customers will use an SMS service to reach dozens, hundreds or even thousands of people on their mobile devices to send promotions, special events, reminders, news and updates.
If you're going to send out a mass text campaign it is essential that you include an opt-out with every SMS message for at least 3 reasons:
It's a legal requirement to have a functional unsubscribe option on every SMS.
It places the recipient's mind at ease because they know that if they want they can unsubscribe from your list.
Having people opt-out keeps your SMS list clean and healthy.
A keyword sign-up means that a person can opt-in to your list using a phrase like "VIP" and they will be automatically added to a specific contact group for you to send future campaigns to.
This helps you keep track of what campaigns people have opted into and what offers you should send them.
4. Text Message Scheduling
Another essential part of any7 good text messaging campaign is having the ability to automate.
Marketers will schedule in their text message promotions to coincide with their other marketing channels.
Medical centers will set up a text reminder for patients to let them know about an upcoming appointment.
Businesses will set up recurring SMS messages to go out to their customers to remind them about monthly payments that are scheduled to come out.
2-way texting allows you to have a back and forth conversation with the recipient of your SMS.
Most of the time texting campaigns are a one-way message designed to update and information about a promotion or offer.
But sometimes you may require feedback to initiate a next step whether that be to have a salesperson call you or to book your place at an event for example.
Other times you may just want to have a conversation with one other person.
Having one central SMS account with the ability to have an unlimited number of users with their own logins and passwords has been an essential feature for a lot of our customers.
This is especially useful for franchisors and multi-location businesses who had different teams who need to send texts to specific geo-locations and internal teams.
Just set up an account and plug it into the primary account and you're all set to go!
Recurring SMS messages were another useful feature in 2018 with managers, associations and businesses primarily using it to send out regular text messages to their contacts.
These are perfect for when the message doesn't change very often but still important to send out regularly without you having to manually send it out yourself.
For example, businesses that used payment plans were able to reduce their defaults simply by automating their reminders letting customers know when they were going to direct debit their account.
Chances are you already use specific software programs and prefer to use their interface because you know it inside and out.
SMS integration means that you can plug SMS capabilities into that software so you can engage your contacts while keeping the familiarity of the software interface.
9. Long-Form Text Messaging
A lot of people think that they have to squeeze their message into 160 characters.
It's not true, in fact with 160.com.au our customers have been utilising long-form messaging for their marketing campaigns.
This means that you can use up to 450 characters and have the recipient receive that as one single message.
Keep in mind that it costs more credits to do this see below: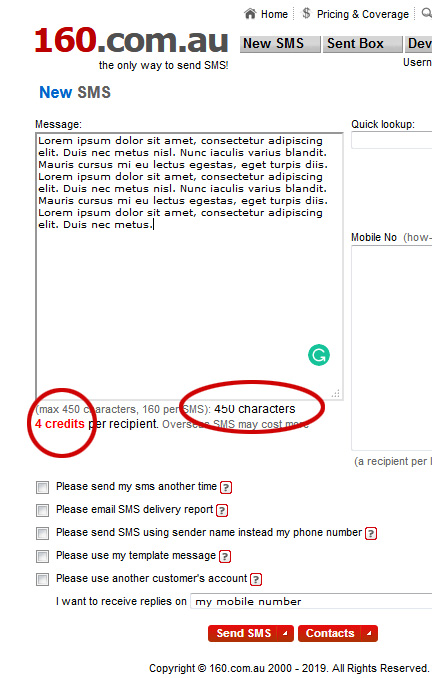 This is primarily used by our agency customers running SMS marketing campaigns simply because they understand the power of list segmentation and how much more sales and revenue you can generate with it.
If you're a business your customers will buy your product for different reasons or may be located in different geo-locations or are only interested in specific products or services.
Not only that but if either of these groups receive messages that are not high-relevant to their needs then your SMS messages start to become an annoyance.
Relevancy is super-critical with SMS more so than any other channel and it's for this reason it's a good idea to group people based on common traits.
For example, if you own a hair salon at the very least you would keep your female and male clientele in separate lists since few men are interested in a free blow-wave.
If you a club manager at a gym not everyone wants to lose weight, some people want to gain weight so you would never send weight gain offers to the weight loss group.
Find out the best way to segment your customers so that you're only sending the most relevant promotions, offers and updates that they would love to see.